In France, such as in Germany, cases of police violence are increasing. Clashes with the police are numerous in both countries. Recently in France, the violence committed by the police during the demonstrations against the pension reform has led to controversy. France has been singled out by the UN and Amnesty International. These images of violence have gone around the world. In France, cases have increased since the 2010s. The article investigates police violence during protests in France and Germany, noting rising clashes between law enforcement and demonstrators, recent incidents, and historical context. Personal stories of those affected underscore issues of racial profiling, harassment, and wider societal implications related to police behavior.
by Kathrin Glatzel, Emma Larbi and Aïssata Soumaré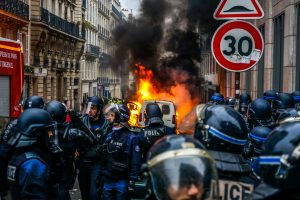 © Norbu GYACHUNG (@norbuw) auf Unsplash
Police Violence in France and Germany: Examining Tragic Incidents and Historical Context
Two police officers are leaning over a vehicle, one is aiming at the driver. « You're going to take a bullet in the head! », we hear. The car restarts. The shot goes point-blank at the driver. The car crashes a few meters further.
The video traces the last minutes of Nahel's life. The 17-year-old died of this shot on Tuesday, June 27th in Nanterre, France. The first version broadcast by several media claimed that the car had run into two police motorcyclists following a refusal to comply. This version delivered by police sources did not resist for long, as the published video described above went viral on social networks. The video shows that the police were on the side and not in front of the car, France experienced 5 days of revolts in several districts and even in certain small towns. Revolts that recalled those of 2005 caused by the death of the two teenagers Zyed and Bouna in Clichy-sous-bois.
This is the second incident of its kind in France since the beginning of the year. In 2022, there were 13 deaths resulting from police shootings during traffic stops, according to an article by Le Monde.
The tragic death of Nahel M. has once again revived the debate on violence of the French police. The institution was already targeted by accusations of brutality during the demonstrations against the pension reform.
"I can tell you that we broke elbows and mouths" that's what a French police officer told Souleyman Adoum on 20th of March in 2023.
Souleyman, who is a 23-year old Chadian student, who recently exposed a recording containing racist remarks made by French police officers. He was taken into custody by the French police after a protest in Paris against the government's unpopular pension reform. A minute later, another officer ordered Souleyman, the only Black person among the people rounded up, to "wipe that smile off your face" before slapping him.
The student was eventually released without any charges. But the officers' threats and humiliations were recorded in an audio clip that has reignited a fierce debate about police brutality in France.
The fact that the victim was a Person of Colour (PoC) has ignited discussions among many defenders about racism issues in France. Extensive racial bias in French policing, particularly targeting Arab and Black individuals, has been consistently shown in studies for a long time. In 2020, France's human rights ombudsperson revealed that young men who are perceived as Arab or Black are 20 times higher likelihood of being profiled and stopped by the police.
On June 6th, a similar incident occurred in Germany. Six police officers in North Rhine Westphalia fired 34 shots at 19-year-old Bilel G. He had previously fled from police control in a car without lights. According to the police, Bilel allegedly drove towards the police officers in a dead-end street, and they moved aside before opening fire. However, a resident can testify that Bilel couldn't have fled, and the police's account is inaccurate. Bilel survived but is highly likely to be paralyzed for life.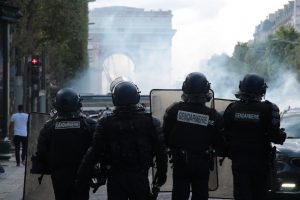 © Hubert de Thé auf Pixabay
The policy of maintaining order in the two countries
To understand the current police violence in France and Germany, it is essential to return to the history of the maintenance of order in these two countries: The colonial era of France refers to the historical period when France established and controlled colonies in different parts of the world, often employing oppressive and authoritarian methods to govern and exploit the local populations. This legacy has left lasting impacts on the French police system, with critics pointing out that some practices from that era continue to influence policing approaches, particularly concerning racial bias and discrimination.
The establishment and consolidation of this basic racist attitude can be illustrated by two important historical examples: On October 17th, 1961, a significant and tragic event occurred in Paris, France, during the Algerian War of Independence. Thousands of Algerians demonstrated peacefully in the streets of Paris to protest against the curfew imposed on them and to demand Algeria's right to independence from French colonial rule.
However, the French authorities responded with extreme and deadly force. Police repression against the protesters was severe, resulting in a massacre. It is estimated that around 200 Algerians were killed on that day, while thousands of others were injured. The exact number of casualties remains disputed, and some historians argue that the death toll might have been higher.
It is also worth considering the violence that took place during May 68 and the actions of the motorcycle police brigade known for dispersing and intimidating crowds during demonstrations. The case of Malick Oussekine, a student who was beaten by the police as he left a jazz concert in 1986, remains etched in memory.
Like many other public institutions, the police force in Germany is organized by the 16 federal states. Due to the fact that it is specified in the Basic Law that police law is one of the absolute rights of the federal states and thus falls under state sovereignty, different guidelines apply in the federal states. Consequently, the police in Bavaria, for example, impose stricter penalties for minor offenses compared to those in North Rhine-Westphalia or elsewhere.
These regional police forces also cooperate with several federal law enforcement agencies. In the 1960s, Confrontations between the far left and the police were intense due to the political climate: Cold War tensions, the influence of the Vietnam War and global movements, social and cultural changes, as well as provocations and radicalization from both sides. These factors combined to create a highly charged environment of political polarization and resistance against established power structures.
One of the explanations for the intensity and contentiousness of these confrontations is linked to the historical background of the police force. Towards the end of the 1960s, a significant number of police chiefs had received their training during World War II, having been part of organizations like the Wehrmacht and the SS. The experiences and training of these police leaders during the war might have influenced their approach to law enforcement, which could have contributed to the tense atmosphere during protests and clashes with the student movement.
In 1967, a student was shot by a police officer during a demonstration in Berlin. The death of Benno Ohnesorg became a symbol of the increasing politicization within the student movement. Confrontations were intense between the far left and the police, the riot squads of the Berlin police were also known for their brutality.
The death of Benno Ohnesorg and the subsequent events served as a catalyst, drawing attention to issues of police violence and accountability in post-war Germany. It became a pivotal moment in the broader student movement, fueling demands for police reform and reflecting the larger societal debates about political and social change during that era.
Navigating Crowd Control: A Tale of Policing Paths in France and Germany
From 2005 and the revolts in the districts, France intensified the methods of police repression with the development of heavy weapons such as the LBD ball launcher, which means « Lanceur de Balles de Défense » in French, which translates to « Defensive Ball Launcher » in English. It is a riot control weapon used by law enforcement in France. The LBD launcher is designed to fire non-lethal ammunition, such as rubber bullets or foam projectiles, intended to disperse crowds or control violent demonstrations.
After the 2010s, social protest was strong, demonstrations multiplied, such as El Khomry labor law, yellow vests in 2018 and the most recent demonstration against pension reform, and the damage caused by the use of weapons, such as the LBD ball launcher, was shown: several demonstrators were injured or blinded.
In parallel, 1985 was an important year for Germany with the establishment of a new policing strategy. In Brockdorf, Schleswig-Holstein, a demonstration around a construction site for a nuclear power plant caused violent clashes. The participants were chased by police helicopters and sprayed with tear gas. This event provoked a great protest movement and gave birth to the Brockdorf judgment in 1985 which established several principles: The Constitutional Court affirms that the police must cooperate with the organizers of the demonstrations, to restrain themselves, not to provoke. The jurisdiction declares that it is essential to communicate with the demonstrators and that the freedom of demonstrations is a fundamental right and a constitutional right.
This policy was established not by police chiefs or politicians but by an authority perceived as neutral and independent. The decision served as a precursor, as the current system in France no longer follows this approach, representing one of the major distinctions between the two countries.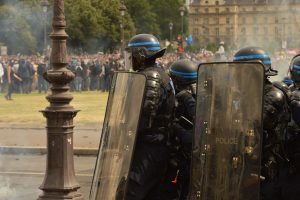 © Hubert de Thé auf Pixabay
Strained Relations between Police and Citizens: Insights from Those Affected
In France, many citizens claimed to have had bad experiences during protests with police's violence. Salomé, a 22-year-old student (of social sciences) is a regular of protests: "I mainly went to demonstrations for gender equality and against pension reform. I went to gatherings almost once a week. » Like many other French citizens, she participates in demonstrations multiple times a year. During the protest against the pension reform that started in February, she recounted experiencing police violence. She was apprehended on the street, verbally abused, and forcefully pressed against a wall after being handcuffed, an incident that was corroborated by a waiter from a nearby restaurant who witnessed the event.
"Your life is hanging by a thread," assured one of the policemen.
Salomé and three of those arrested said the officers bullied them, mocking their appearance and warning them that they would soon face trial. For her, the problem is not a singular issue,"because this system of almost political control over order is a form of inquisition. They can ask you what you are doing there. Where you are going. They do abusive checks on the sidelines of protest or face checks". Salomé was aware of this and afraid of police brutality, "I could have never imagined it for myself", she said. So, she decided to reveal a recording of this violence to the media. An investigation has been opened by the prefect of the police of Paris, Laurent Nuñez, and three of the police officers present that evening will go to the disciplinary council for having threatened and humiliated these demonstrators, if this time, they can be sanctioned, some French citizens renounce, as, police are often not sanctioned. In addition, Laurent Nuñez sanctioned four other agents with a warning.
Similar to Salomé's journey, Matteo, a 22-year-old engaged citizen, shares a compelling story of social protest. Ever since his high school days, he has been an activist advocating for climate and animal rights. In France, he has actively participated in and coordinated numerous demonstrations, displaying his political engagement at a local level, primarily in the southern regions of the country. As Salomé, he said that he experienced police violence several times, the first time was in 2019: "I was protesting for animals' rights, and I was in an anti-corrida demonstration. There were a lot of protestors in a small village. I would say it was a normal protest context: there was violence on both sides. What shocked me was that the police could charge the whole crowd for one person". To him, the violence served as a means to grasp the unsettling realization that "for the first time you have the feeling that it's a public force that's against you, » despite his aim to advocate for the rights of French citizens. He also believes that psychological violence is more distressing than physical violence.
Now, alongside his studies in political science, Matteo works as a police reservist, like in Germany, the French police reserve serves the purpose of providing additional capacity and supporting regular police forces, especially in situations with an increased need for security and order. He was also driven by a desire to comprehend the perspective of others, expressing, « I wanted to experience what it feels like to be on the opposite side. I've always been on the demonstrator's side. I condemn all violence; when you're on the other side, you must respect procedures, but now I understand better the context of tensions. And I've already asked myself the question: « If I find myself in this situation, couldn't I get out of hand myself?". »
Similarly, Martin, a 21-year-old from Vienna, Austria, recounts a distressing incident of police violence during his time in Paris: « The police physically attacked me (…), just because I expressed my opinion. » It was Saturday evening when he and his friends wanted to go to a club. The bouncers decided not to let the group in, which wasn't understandable, as they already purchased their tickets. When they asked why they couldn't enter, one of the bouncers punched one of Martin's friends in the face, causing her to start crying and her roommate decided it's best to call the police.
The police arrived, but the club owner and the bouncer denied the allegations. Quickly the police decided that they couldn't help the friend, who was still crying. Martin and his friends were visibly frustrated and started talking loudly in German about how unprofessional they thought the police were handling the situation. They had hoped that the police would resolve the conflict and hold the bouncer accountable.
The police overheard Martin complaining about the police's actions. Later, when he separated from the group, he was physically attacked by an officer while his colleagues watched. He choked Martin while yelling at him in French. After about a minute, the officer released him and drove away.
"If I now say, for example, that I hate lawyers. They can't attack me for that, just because I don't like the professional group. » The next day, Martin spoke with French acquaintances who told him that it often doesn't make sense to report the police in France because colleagues protect each other, and they are rarely convicted.
Reflecting on the encounter, he notes, « It was an incident that confirmed my beliefs.« . Today, he has many questions, especially wondering how the police didn't help his female friend and instead created a situation to use physical violence. He also wonders how him presenting as a queer person had played a role in the French police physically attacking him.
« I think the problem is simply that they (the police officers) know that this (physical attacks) can happen without consequences and that they are on an ego and power trip. »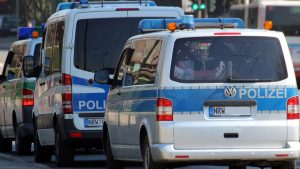 © Ingo Kramarek auf Pixabay
Manuel, 23, from Frankfurt, Germany, whose name was changed upon request, shared his experiences with racial profiling as a Black person in Germany. In 2021, police officers promptly stopped and searched him seconds after his arrival at Cologne Messe/Deutz Station. No one else was checked except for him. After being instructed « not to make any sudden movements » and asked if he was carrying weapons or drugs, the officers superficially searched one of several bags he was carrying. Despite Manuel cooperating and remaining calm, he was detained for an additional 20 minutes and had to answer questions like « What is this? » while a police officer rummaged through his bag and held a power bank up to his face. He now describes the encounter as « harassment » and a « demonstration of power".
He mentioned that after the police control, he noticed signs of PTSD in himself, as he was shaking for hours afterward and reacted anxiously to loud noises in the surroundings for the rest of the day. He did not file a complaint about the incident because he couldn't remember the badge numbers of the police officers, and he couldn't film the encounter due to the instructions given by the police. During the control, he wished that passersby would stop to observe the police, and he hopes that such incidents are filmed so that the police feel less confident in harassing people on the streets.
The German Police Union (GdP) has previously emphasized that there is no institutional racism within the police force. They argue that isolated cases of racist behaviour are regrettable exceptions and not representative of the entire institution.
However, in an interview with the Deputy Federal Chairman of the GdP, Alexander Poitz, he admitted that « if there is racism, then it will also exist to some extent within the police force because the police force is made up of human beings. »
Biplab Basu, a lawyer and co-founder of Kop (« Campaign for Victims of Racist Police Violence ») Berlin, and expert on racist police violence, explains that many police officers lack respect for People of Color. In an interview with Tagesspiegel (2020), he describes racial profiling as « one of the worst forms of racism. Not because physical violence occurs, but because it attacks my human dignity. White people don't experience such things. »
In the interview with Mr. Poitz, the Deputy Federal Chairman of the German Police Union (GdP), he stated that the problem of violence does not lie with the police themselves but rather is a societal issue that impacts their work. He emphasizes that the safety of police officers is increasingly becoming a focal point as they are confronted with the repercussions of violence in society. « It is not the police that have a violence problem, but society. »
Organizations, including the police, must recognize and address their shortcomings to demonstrate accountability, transparency, and build trust with the public. Emphasizing self-awareness and actively seeking solutions is a more constructive approach to tackling complex societal problems like violence.
Manuel regularly attends demonstrations from the left-wing spectrum and anti-racism movement, including the « Revolutionary » May 1st demonstration in Frankfurt in 2021. Manuel described an intense atmosphere during the demonstration. Daily life was shaped by COVID-19 restrictions and frustration towards politics. Youth were frustrated with contradictory and limiting restrictions. At the beginning of the demonstration the police warned through loudspeakers to "adhere to regulations and not ignite pyrotechnics". Manuel observed that it was primarily « white Antifa guys » who began provoking the police, causing suffering for all demonstrators, but particularly BiPOC (Black, Indigenous, people of color).. Manuel and his friends tended to distance themselves from provocations because, as he said, « We (BiPOC) are the ones who get pulled over on our way home. »
______________________________________________________________
This article is a product of the project "Futur2 – French German Journalism" by students of BA Journalism, KU Eichstätt-Ingolstadt and M1 Journalism, CELSA Sorbonne University. It was funded by Deutsch-Französische Hochschule | Université franco-allemande: "Élysée-Vertrag – Zusammen den Blick in die Zukunft richten" in 2023.